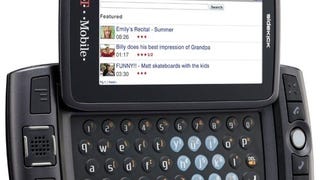 I come to bury Sidekick, not to praise him. Less than 24 hours after Microsoft killed Kin dead, T-Mobile has abandoned the granddaddy of messaging phones. Sidekick sales will cease tomorrow, July 2nd, and honestly? No one will care.
Good news: It looks like Sidekick data fiasco is finally coming to an end. Over on T-Mobile's Sidekick forums, an official Microsoft statement confirms "most, if not all, customer data" will return "as soon as possible", starting with personal contacts.
I wouldn't get too excited yet, but this could be promising news. A few users over at the T-Mobile forums have reported that their lost address book contacts have come back. Here's what they had to say:
T-Mobile sent out an update regarding the first great tragedy of the 21st century (involving Sidekicks): They're still holding out hope for data recovery, but if they can't, they'll show how sorry they are with a $100 credit.
T-Mobile's initial apologia to Sidekick users grieving their lost data was a joke. A month of free data service? To access what? Now they've manned up, giving affected customers something they might actually want: A way out of their contracts.
T-Mobile Sidekick users have been holding out hope that their data might be recovered after T-Mo issued an optimistic message of hope. But the carrier just updated users and admitted the truth: Your shit's gone. Sorry, guys.
This shot from Hiptop3 supposedly shows the Sidekick 2009, which has the rumored codename of Sidekick Blade.
The AT&T Quickfire will be heating up the competition with the T-Mobile Sidekick when it is released on November 10 this year. This tri-band cell phone will only cost $99 with a 2-year contract—$299 without—and doesn't seem like a Windows Mobile phone, or any other OS we've ever seen. The Quickfire includes a touch…
Franklin's new Pocket Spelling Bee was unveiled at the NYC Toy Fair this week and despite its more than passing resemblance to the Sony Mylo, it appears to be a solid educational toy. The device allows kids to compete against one another or the computer in a spelling showdown for supremacy.

Last night, we told you T-Mobile was launching the Sidekick iD. This morning, the FedEx man delivered it unto us. Our unselfish first thought was to take a lot of pictures of it and post them for you to check out. But, before you click for the gallery, let's recap: