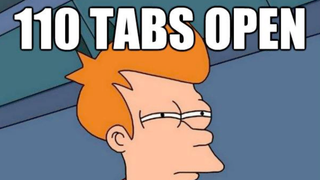 Tab management isn't always easy, and your browser of choice no doubt comes with an option or two to combat tab overload. The latest tool is SnoozeTabs, an experimental new utility for Firefox.

The advent of tabbed browsing promised a future filled with super-efficient web wandering, where pages loaded up in a snap and we could all keep up with dozens of sites at once. In reality, many of us are getting bogged down by tab overload, but don't despair—these third-party add-ons for Chrome and Firefox can help…
Google Chrome already alerts you to which tabs are playing audio, but you can also use these icons as mute buttons if you're prepared to delve into the browser's hidden settings file. The feature was previously available in the developer channel of the program but has now graduated to the stable editions for Windows,…
This weekend, a leak from Japanese magazine Mac Fan (subsequently picked up by Macotakara) reveals what they believe to be schematics and specs surrounding Apple's rumored 12.2-inch tablet, the same mega tablet that Bloomberg reported was coming back in August.
Wait, Samsung just launched two more Galaxy Tabs? Anyone who can keep count of these things deserves one for free.
Blog Vital Security has discovered a fatal flaw in Google's Chrome, which may dramatically affect the lives of the tens of thousands of people who are running the browser right now: