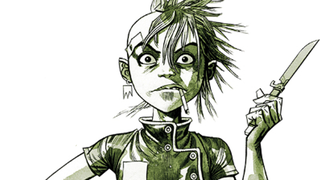 Last year, Jamie Hewlett and Alan Martin took to Kickstarter to write a whole new Tank Girl story together for the first time in nearly two decades: 21st Century Tank Girl. Missed out on it the first time round? Well, good news: Titan are serialising the book as a 3-part miniseries!
Fame is a fickle mistress. You never know when she will bestow her blessings upon you, and you don't know when she'll take it away — although starring in really crappy scifi and fantasy movies is a pretty good way to make the latter happen. Here are 15 poor souls whose movie careers ended rather abruptly.
In space, nobody can hear you freestyle. But that hasn't stopped some of hip-hop's greatest legends from appearing in some classic science fiction and fantasy movies. From battling killer sharks to fighting off ghosts on Mars, some of our favorite rappers have also become some of our favorite SF heroes.
Kick-Ass wasn't a box-office sensation, but it may have helped superhero films break out of their same old boring mold, the Guardian suggests. Here are eight other superhero films that Hollywood can study, which helped avoid the same old cliches.
Hope you've been saving up your pennies for this week's comic haul: There's an impressive amount of new releases that you'll want to take home and cherish for at least the next seven days. Yes, these are Comics We Crave.
You may know Tank Girl as many things - comic book character, punk-rock icon, failed movie star... but now you will know her as a fine-art collectible. A new giant coffee-table book, The Cream Of Tank Girl, makes the case for Alan Martin and Jamie Hewlett's creation being a work of art with pulverizing intensity. Just…
Look, let's be honest — you don't care about this week's comics. Sure, you might want to, you may even go to your local store and pick a few up, leaf through them. But your mind will be elsewhere: at that multiplex waiting for Doctor Henry Walton Jones Jr. and his son, who likes to hang out with Transformers. But…