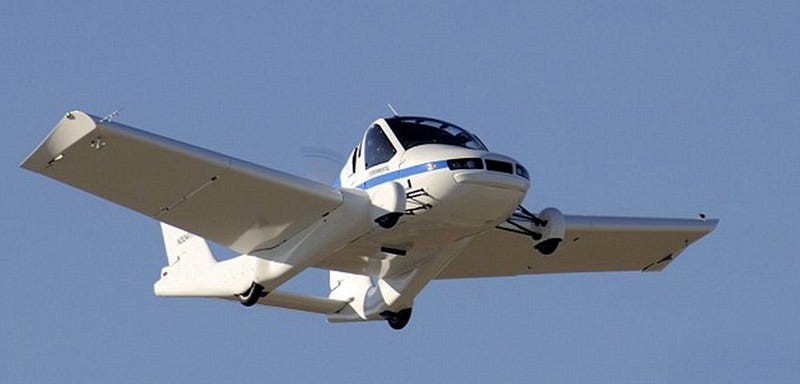 Every six months, websites proclaim that the flying car is just over the horizon! And as if on schedule, the Daily Mail has a new article about how Terrafugia's Transition is coming soon! The only problem? We've been hearing that since 2008.
A few weeks ago we looked at the broken promises of Terrafugia — a flying car company with a product that's always just two years away. Well, we've got an important update. The company is looking for just $30 million more to get their product off the ground.
It's that time of year again! Every six months or so, the media rave about the latest advancements in flying car technology. They insist your flying car is ALMOST HERE! No, no it's not.
Before even releasing its first flying car, Terrafugia has already begun work on its successor, the TF-X — a much sexier four-seat hybrid capable of vertical takeoff. The company also announced that the Transition will be ready in about two years. Or maybe three. We're so totally holding our breath.
Terrafugia made big waves last year with the introduction of the Transition, the first flying car. Sure, it was more of a driving plane than a flying car, but it brought a dream everyone has had to life. They're already planning a successor to the first model, and it'll go 200 MPH, take off vertically, and do other…
As strange as it is to say, we really do live in a world with a flying car. And a few decades from now, when we're all ditching gridlock for the open skies, we can partly thank Jens Martin Skibsted.
The folks at Terrafugia have moved the flying car even further into the mainstream this weekend thanks to a weight exemption granted by the FAA.
Unlike so many other pie-in-the-sky tech masturbation fantasies masquerading as projects that'll see the light of day, Terrafugia's Transition flying car amazingly looks like it really will go on sale next year, as its creators claimed three years ago. Gregory Mone from Pop Sci even got to sit in the $194,000 car,…


Remember that Terrafugia Transition flying car we showed you nearly two years ago? Its makers have been busy since then, and might even get the thing flying before the end of next year.