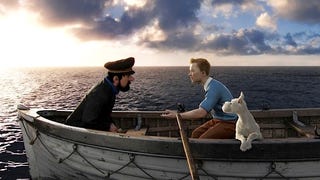 Despite boasting internationally lauded source material, the most famous populist auteur in film history, and lavish special effects, The Adventure of Tintin is a tough sell stateside. The film's androgyne hero remains an unknown quantity over here, and the previews' hyper-caricatured CGI may scare away those…
io9 recently caught up with actor Nick Frost (Shaun of the Dead, Hot Fuzz), who plays the pratfall-prone Inspector Thomson in Steven Spielberg's The Adventures of Tintin. Frost filled us on the motion-capture process, potential upcoming projects with longtime collaborator Simon Pegg, and what it's like to play a…
Hergé's classic Tintin comics have many a zany visual, so how did Steven Spielberg and his team render the hero's 2D adventures in 3D for The Adventures of Tintin? To learn about this process, io9 spoke with the film's animation supervisor — Weta Digital's Jamie Beard — about bringing the boy adventurer to life.
Up until now, it was always a bit difficult to avoid falling into the uncanny valley while watching trailers for Steven Spielberg and Peter Jackson's giant Tintin movie. But we're happy to report that this brand new collection of clips has whisked us all away into a REAL world and not a mo-cap nightmare. It's…
Now it's official: Marvel Studios won't be promoting The Avengers, or any other forthcoming movies, at Comic-Con. With this news, Marvel joins parent company Disney, plus Warner Bros. and the Weinstein Co., in sitting out SDCC 2011.