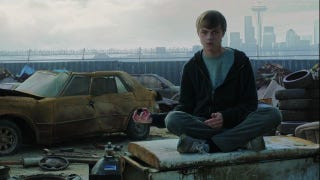 Now that Paranormal Activity 3 has broken box office records for October, Hollywood is green-lighting any thriller you can shake a handheld camera at. The "found footage" horror movie is set to have a new lease on life, with a pipeline full of jump scares. Here are the next crop of "found footage" flicks you should…
The Last Exorcism was the weekend's most popular movie, and the crazy ending had people debating what it all meant. We talked to director Daniel Stamm, who gave his perspective - and told us why horror needs realism. Major spoilers!
Watch all these guys, looking idiotic at the sight of this pretty girl stripping for them, until she turns into she-devil. I haven't enjoyed a ChatRoulette trick this much since the snake vs baby chicken flashing boob ruse.