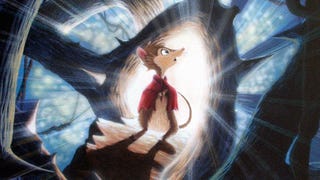 Why must we constantly fear the supernatural when there's so much real stuff to fear? Take, for example, the many smart, dangerous groups of animals who escaped from their laboratory environments and now roam free. Perhaps they're just enjoying their liberty — or perhaps they're seeking revenge on those who caged…
Thank you for purchasing CliffNotes: Wishbone - "Bark To The Future," an educational guide for those readers requiring assistance in understanding the fundamental plot points of H.G. Wells' science fiction novella The Time Machine, as depicted in the defunct 1990s PBS children's show Wishbone (ages 5-12).
Marvellous Hairy author Mark A. Rayner is holding a Photoshop contest to create vintage advertisements for futures that don't exist yet. Here's a small sampling of these retrofuturistic print pieces from both the current and past contests.
Click to viewThe worst thing about Hollywood's plague of crappy SF remakes is, you get numb. You forget just how epically awful some of them were, even compared to Keanu/Klaatu. Here are the ten absolute worst remakes.
Click to viewIt happens to the best dashing science fiction hero: You come up with a preternaturally clever plan to stop the bad guys, involving a totally cunning bit of MacGyvering or hustle... and it totally fails. Your super-gadget blows up. Or your allies flake. The bad guys turn out not to be total idiots. Or all…
If only the rest of 2002's The Time Machine had been like this sequence, it would have been one of the greatest science fiction movies ever. A future attempt to colonize and mine the moon instead leads to the near-total destruction of all life on Earth, as the broken moon rains chunks of rock onto Earth. Supposedly…