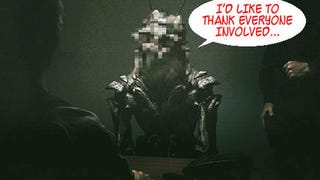 It's not just one of the most anticipated movies released this summer, but District 9 may also turn out to be one of the most profitable, having made almost half of its budget back within its first day of release.
The Time Traveler's Wife is a story about deja vu. Everything that happens has already happened, and will happen again, thanks to the story's endless time loops. So maybe that's why everything in the movie feels so tiresomely familiar. Spoilers...
Spoilers come from everywhere, despite what the Answer Bitch says: Marvel spills Iron Man info, a Star Trek star talks sequels, and there's Avatarfootage details. Plus Time Traveler's Wife, Gamer, Jennifer's Body, [Rec] 2, New Moon, Lost, Dollhouse and Smallville.
Apparently, "spoilerphobia" is a medical condition. Cure yourself with an early G.I. Joe review, Green Lantern script talk, and Angelina Jolie's rumored return in Wanted 2. Plus Christopher Nolan's Inception, Lost, Time Traveler's Wife, John Carter, BSG, Eureka and Supernatural.
The trailer for the timeslip romance, The Time Traveler's Wife, is finally online, and it shows the attractiveness, and horribleness, of a lover who can't stay. (Plus a nifty "dematerialization" effect.) And click through to see the poster.
David Fincher recently released a longer trailer for The Curious Case of Benjamin Button, a bewitching, sepia-kissed romance-drama starring Brad Pitt and Cate Blanchett. Camille Saint-Saën's wistful, whimsical "The Aquarium" scores the longer clip; it's a track that would fit effortlessly into the Tim Burton oeuvre,…