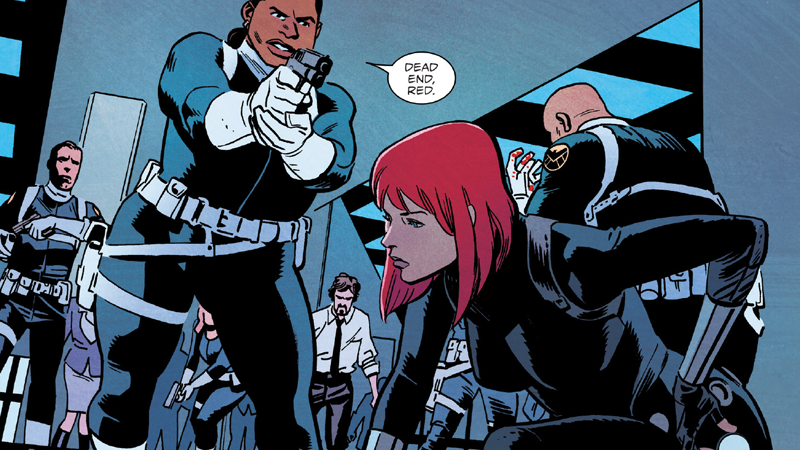 Imagine the elevator/escape from SHIELD sequence in Captain America: The Winter Soldier. Now imagine it as if it was a) a comic book, b) featured no trace of Captain America at all, c) had Black Widow instead, and d) was somehow even better.

Given he's appeared in almost as many films as Gene Hackman has, it was only a matter of time before Hot Toys' talented artists would give us a figure based on one of Samuel L. Jackson's characters. And Nick Fury from Captain America: The Winter Soldier is as good as any.
Captain America: The Winter Soldier is a superb action flick, but it also does a commendable job of serving up scenes for even the most die-hard fans. After the jump, Kevin Garcia dissects the film's various secrets and subtle references to the broader Marvel Universe in an exhaustive review. Warning: Here be spoilers…
There are a ton of Doctor Who photos, and the Jessica Jones TV series has a showrunner. Independence Day 2 gets a new release date, and next year will see two Hercules films. New versions of Ghost and Tales from the Darkside are coming to TV. Plus, a toy line gives a glimpse of Captain America 2's costumes. Spoilers…
Captain America's first outing was a great summer popcorn flick, and we loved seeing the wholesome hero leading the attack in The Avengers. And now that Steve Rogers gets to team up with Scarlett Johansson's Black Widow once again, damned if we're not incredibly excited to see at least one-third of the Avengers…
If Marvel really wants to make four movies a year, then they're going to have to dig deep into their toybox to find enough characters to fill them. Luckily, we're here to help out with some suggestions.
Warlock
The Pitch: "Man's struggle against himself made flesh."
The Explanation: Artificially created to be the perfect human, Adam Warlock struggles against his own evil side... literally; his nemesis, the Magus, is a future version of himself gone bad, and attempting to speed along the transformation. Is the only…
Hawkeye
The Pitch: "Mr. & Mrs. Smith, but with spies instead of assassins."
The Explanation: While Hawkeye's been kicking around with the Avengers, Defenders and even Thunderbolts for years, the ideal Hawkeye movie should avoid all that and skip straight to Jim McCann's recent New Avengers: The Reunion mini-series -…
Doctor Strange
The Pitch: "Harry Potter meets Nip/Tuck."
The Explanation: What happens when one of the world's greatest surgeons loses the full use of his hands in a car accident? If your answer is "He goes to Tibet and becomes the world's greatest magician," then you clearly know your Strange. We're saying, keep him…
Power Man and Iron Fist
The Pitch: "Shanghai Noon meets 48 Hours. Meets I'm Gonna Git You Sucka."
The Explanation: Yes, yes, I know that Luke Cage has a respectable career with the New Avengers these days, and Iron Fist has his own series back, but these two characters (Both born of Marvel's 1970s bandwagon-jumping…
Nova, the Human Rocket
The Pitch: "Spider-Man meets The Last Starfighter."
The Explanation: Rich Rider, an everyday American teenager, is chosen by the last surviving member of intergalactic police force the Nova Corps, to take his place and defend the universe from the space pirate who's out to kill them all. Part …