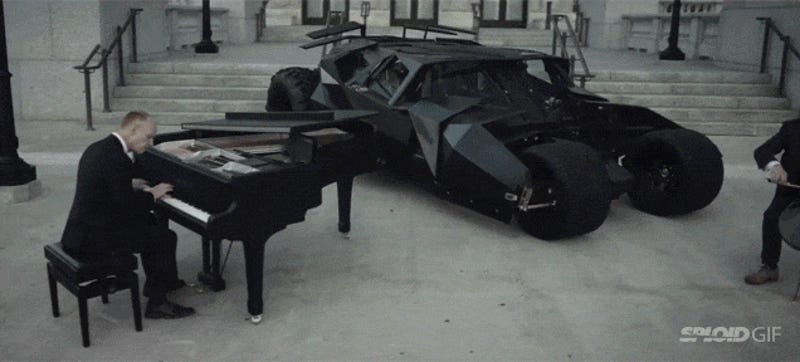 The Piano Guys made this epic video that traces the 50 year history of music in Batman using a piano and a cello. Oh and of course three different Batmobiles. What's awesome is how much each era they go through musically looks like the Batman movie of its time.
Over at Kotaku.com, Kirk Hamilton focuses on the three-note melody that plays when the new Microsoft Xbox One is turned on. The startup sounds of both Microsoft and Apple computer devices have gotten attention in the past, thanks to work done for the companies by Brian Eno and Robert Fripp. Hamilton contrats this with…
The force is strong with this one, it seems. Gezi Parkı on YouTube uploaded a video of a baby being calmed by the Star Wars theme song. The baby boy goes from crying to silence to gleeful within the first few notes of John Williams' Star Wars theme song. This kid is going to be all right.
YouTube user telegenicx slows songs down and stretches them out into long and languid sonic experiences. Ron Grainer's original 1963 Doctor Who theme song is particularly well suited to this time stretching, transforming into 20 minutes of otherworldly mood music.
The awesome LA-based band Killabite just recorded an unofficial theme song for Gizmodo. Listen to it now.

Ablestmage.com (via Waxy.org) points us to terrific video of a personal household robot named Newton. "He" was marketed by the company SynPet in 1989 with this VHS promotional video.
Our Theme Song Contest finished up last week and after narrowing down the entries to the top nine or so we leave it to you, the readers, to vote for a winner and potentially a theme song that will appear in our original content videos.
The Gizmodo Theme Song Contest finished up last week. I compiled nine of the better entries and now leave it to you, the readers, the vote for the winner. The winner will receive of pair of Audioengine A5 speakers valued at $350. Big thanks to Audioengine for sponsoring this contest. Now, hit the jump to listen to all…