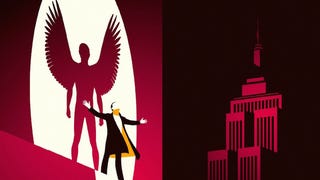 For its awards held over the weekend, the BAFTAs commissioned posters for each of the best film nominees. In each one, designed by artist Malika Favre, character and plot development is hidden in the shadows. Above is part of the Birdman poster from the "Big Reveal" campaign. The full one is below.
The Theory Of Everything is a remarkable, moving portrait of Stephen Hawking, who overcame unthinkable obstacles to revolutionize science. It's a beautiful romance that spans the 1960s through the 1980s. Too bad the movie mostly glosses over the actual science that Hawking became famous for. Minor spoilers below...
Eddie Redmayne pulls off a tremendous feat in The Theory of Everything, playing Stephen Hawking from the early 1960s to the late 1980s. Not surprisingly, he's already getting a lot of Oscar buzz. We sat down with Redmayne for an exclusive interview and he told us what it was like to meet the real Hawking.
You know Stephen Hawking as one of the smartest living people on the planet, but you may not know the story of his life before he was famous. Here's the second trailer from the upcoming movie The Theory of Everything, which tells his tale.