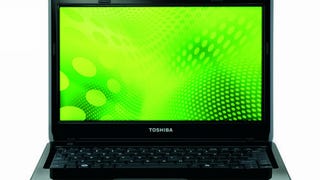 Toshiba's new 11.6-inch Satellite T115 and 13.3-inch Satellite T135 won't be the flashiest thin-and-light notebooks on the market, but they're an economical entry point into the increasingly popular class of casual-use, ultraportable laptops.
Want the tiny size of a netbook, but the power of a full-size? Intel showed off a crop of ultraportable laptops, all aimed at around an $800 MSRP, using Core 2 Duo processors, not Atom. Check out our gallery below.
Laptop Mag took a look at Dell's new optical drive-less, 14-inch thin-and-light 14z laptop and, for the most part, liked what they saw. It's a very solid performer for its class, the price is right and it's nice and slim.
What happens in Vegas stays in Vegas, but when you're talking about Malibal, a laptop purveyor which calls Las Vegas home, the company is moving out two stylish-looking notebooks with Intel Core Duo processors. Malibal says it has the fastest gaming laptops, notebooks and high-end laptop computers in the world.