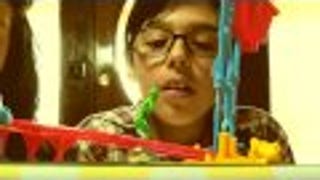 Set to the tune of OK Go's This Too Shall Pass, this fantastic song/video parodies OK Go's famed Rube Goldberg video—it's called Mousetrap Never Works. And it'll have you fist-pumping in vindication of your misspent childhood.
With over six million views in six days, OK Go's video for "This Too Shall Pass" is the latest in their unprecedented string of runaway YouTube hits. Lead singer Damian Kulash shared OK Go's video philosophy—and history—with Gizmodo.
OK Go's new music video for "This Too Shall Pass" is four minutes of pure Rube Goldberg insanity. And as these behind-the-scenes videos show, it was every bit as monumental an undertaking as you'd expect:
Those crazy cats at OK Go are tugging at our heartstrings yet again, with the release of a brand new video for the song This Too Shall Pass. It takes the Rube Goldberg machine concept to another level completely.