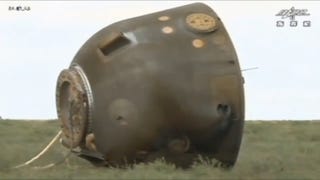 China successfully completed its longest human space mission as the Shenzhou-10 spacecraft and its crew of two men and one woman returned safely to Earth. The return capsule landed via parachute at 8:07 am local time (0007 UTC) Wednesday, June 26th, 2013 on the grasslands of north China's Inner Mongolia region. The…
Early this morning, China's manned Shenzhou-9 spacecraft successfully docked with the orbiting Tiangong-1 space lab, becoming the third country on Earth — behind the U.S. and Russia — to do so. It brings the country one step close to having the world's only space station. On board the docking vessel were taikonauts…
According to observations published in Spaceflight Magazine, the United States Air Force may be spying on Tiangong-1—China's first space station—from orbit. Seems reasonable: China is steadily advancing towards their goal and the US may want to know what they're doing.
The US Air Force's high-tech, unmanned X-37B spaceplane launched on March 5, 2011, entering low Earth orbit with the mission designation USA-226 and a set of tantalizingly vague mission parameters: to "demonstrate a reliable, reusable, unmanned space test platform for the United States Air Force."
Today, China is a lot closer to completing their suborbital space station plans: the unmanned Shenzhou 8 spacecraft has automatically rendezvoused and docked with the space lab Tiangong-1. It's the third space agency ever to achieve achieve this feat.
When China was denied membership in the multinational partnership that operates the International Space Station, the country decided to build a manned space station of its own. Now, China is one step closer to achieving its goal: late last night, the China National Space Administration successfully launched its…
The Guardian newspaper in England is reporting that China's state run television, CCTV, and China's space agency released a video animation of the just launched Tiangong 1 miniature space station showing extensive footage of rendezvous and docking maneuvers in Earth orbit that is inexplicably set to the tune of…
China has successfully launched the Tiangong-1, its first space lab. It's the first of a series of small test stations, and the first step towards the country's goal of having a 60-ton space station in orbit by 2020.
China rallied hard to become a part of the US-led, international partnership that owns and operates the International Space Station, but was ultimately turned down. Not one to be left out, China decided to go ahead and build its own manned space station — and later this week, the country will take a major step toward…