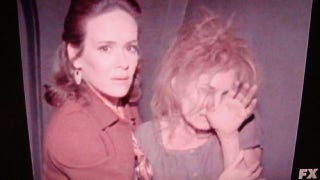 American Horror Story had its ups and downs this season — but at least the show ended its second season with style and grace. On Wednesday night, Briarcliff went out with a bang. And for the first time in a long while, it felt like the show's script was getting the same attention as the cast's wardrobe.
The man who shot Mal Reynolds in the gut came back to kick us in the teeth, with Friday's Dollhouse episode. Tim Minear's brilliant episode left us with tons of questions. Luckily, he was willing to answer them. Spoilers below...
Firefly's Tim Minear is already hard at work on the Syfy Channel's reboot of Alien Nation, and we asked the Syfy execs about it. But that's not the only classic they're looking at restarting: Quantum Leap could make a comeback.
The Syfy Channel is rebooting another classic series, with a brand new Alien Nation. No doubt hoping to pull down BSG numbers, they've even brought in Tim "Angel, Firefly, Dollhouse" Minear to write the new series.
Mind-wiped humans serve as "dolls" for the wealthy in Dollhouse, a new TV series from Buffy and Firefly creator Joss Whedon. Echo (Eliza Dushku) can take on any personality you want her to have — complete with memories, skills, languages and "even muscle memory." Once imprinted, she fulfills the fantasy of whoever…