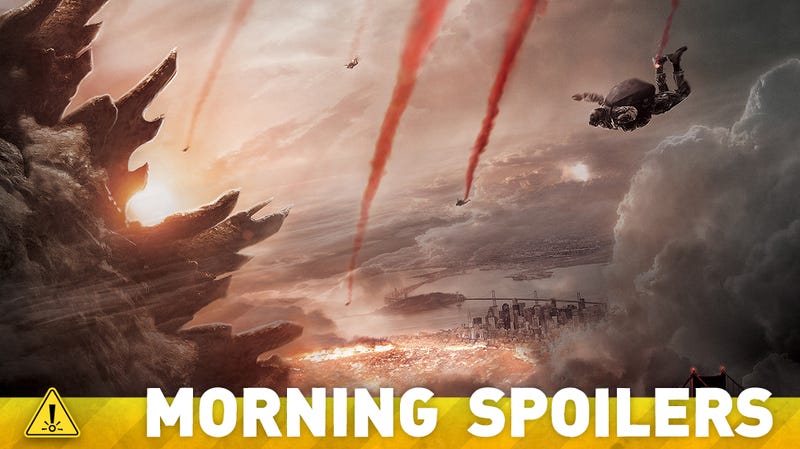 There's another new Star Wars casting rumor. Peter Jackson explains why he added elves to The Hobbit, and whether he'll direct an episode of Doctor Who. And Robert Kirkman says you will always know when it's a character's last moment on The Walking Dead. Plus, the first poster from Godzilla. Spoilers now!
Ben Affleck says why he changed his mind after turning down the role of Batman. There's a real reason why Wolverine is the time traveler in Days of Future Past, and there's a new featurette for Star Wars: Rebels. Plus Alex Kingston returns to Arrow, and Bret Michaels plays himself on Revolution. Spoilers now!
NBC's ordered a scifi pilot from Transformers movie scriptwriter Ehren Kruger titled Tin Man. It is not, thankfully, yet another show about The Wizard of Oz, but "a psychological crime thriller set in the near future that focuses on a fugitive robot accused of first degree murder," according to Variety
Earlier this week, this steampunk Iron Man suit won best costume at New York Comic Con. Turns out it's just a repainted getup from an indie movie, and the film's creator is "royally angered" by its new superhero paint job.
Wonder what happened to Gaeta after his failed mutiny on the Galactica? Apparently, he fell through the looking glass and landed with familiar faces from Primeval, Star Trek: Deep Space Nine and Max Headroom in SyFy's Alice in Wonderland remake.
Neal McDonough, star of Sci Fi's Wizard Of Oz reboot mini-series Tin Man revealed that we've not seen the last of the kinky-gothy show. Talks are apparently happening to bring it back long-term.
If you're a post-human robot living in a world that's long since been discarded by humanity, you're going to want some tunes to listen to. Or at least process them through your sub-neural micronet. Eventually robots will figure out how to make their own superior robo-songs, but until then we've compiled the definitive…
Flying cars are dime-a-dozen in science fiction. But they don't all look as cool as Harrison Ford's cop car does in Sid Mead's original concept art. And some of them have cool extras, like voice-controlled color or a built-in ATM . But what you really want to know is, what's the fastest super-car in scifi? We rank…
Watching Alan Cumming unzip his head of cutsey braids as the "Scarecrow" in the SciFi Channel's Tin Man last night reminded me of another role he played as Nightcrawler, the crazy blue mutant from X-Men 2 . . . and another role as a freaky god named Loki in Son of the Mask. He's always this ambiguously gay elfish…
Heroes comes crashing to an end tonight, and it may not be back until next fall. Since the episode was originally designed as the midpoint of the 2007-2008 season, don't be surprised if it has kind of a downer ending. In any case, a lot will happen tonight to scrunch together a satisfying resolution to the mini-season:
Tin Man, The SciFi Channel's reimagining of The Wonderful Wizard of Oz begins airing on Sunday night as a three-night miniseries. It's a complete refab of the entire book as you know it, set in the O.Z., or Outer Zone. The 13-year-old kid in us loved the complete reworking of something that has quite frankly become…
With new miniseries Tin Man, the SciFi Channel has dressed up the old Wizard of Oz tales for the modern, science-fictional age by injecting initials (Dorothy is DG, Oz is "the O.Z.") and making all the characters seem a little bit Farscape. So is Tin Man fantasy or science fiction? Take the poll and be the judge.