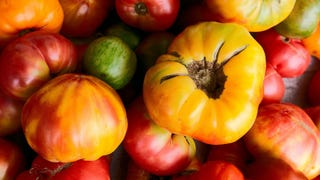 Keeping a tomato flavorful and firm past a few days is no easy task, as anyone who has made the catastrophic mistake of sticking a tomato in the fridge can attest. Now, new research could finally give us a much longer span of time to eat that tomato.

Installing a custom firmware on your Wi-Fi router is like God Mode for your home network. You can see everything going on, boost your Wi-Fi signal, beef up your security, and even do advanced tricks like install your own VPN. Still, there are so many options available it can be tough to pick the right one. Here's…
Japanese people claim that ice cream company Gari-Gari Kun makes the best popsicles in the world. They're about to introduce a new popsicle flavor: Pasta with tomato sauce. The tomato sauce is inside the popsicle in gelatin form. It sounds terrible but something tells me that it must taste good.
Because everyone loves bacon. St. Louis's Iron Barley restaurant went after the biggest BLT world record this past week, and they owned it. What resulted was a behemoth of bacon perhaps too much even for Epic Meal Time.