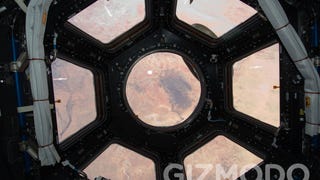 Here's the first view from the open Cupola, the huge window installed in Tranquility. And yes, it looks like the view from Darth Vader's loft in the Death Star, overlooking Tatooine. Update: Multiple HD shots inside.
Astronauts on the current shuttle mission found themselves woken up yesterday by music near and dear to our nerd hearts: "Shuttle crew awoke @4:14pET to theme song from 'Firefly,'" announced NASA's twitter. Next stop, hopefully? Alan Tudyk in space.
This week, Stephen Colbert has finally gotten what he deserves: a piece of the International Space Station named after him. But it's not the module he had hoped for. It's a treadmill. And it's still in over a hundred pieces.