Keep your wireless keyboard, Magic Trackpad, and Apple remote neat, perfectly placed, and right at your fingertips. For those of us who don't have the full collection, there are three variations of this black walnut keyboard tray, so no worries.
China Ontrade calls this the iPhone 4 Generation Midboard. Not very exciting, but the last time they announced a next-generation iPhone part, they were right. A month later, the iPhone 3GS appeared with exactly those parts. What could this mean?
Kazuya Koike's Sensor Tray Lamp, an ABS resin and polycarbonate tray which uses four LED lamps to light up when you put something on top, is one of those ideas that would be perfect if you were organized enough to always put your personal stuff on the same place. Knowing me, its cool design—available in sand white,…
The HTC Touch Diamond is pretty classy already, but this desktop cradle/desktop dock gives it a nice house on your desk for it to sleep and dock. From the looks of it, it's even got earbuds and a 3.5mm jack for you to connect to a set of speakers as well. The footprint looks slightly large compared to say, an iPhone…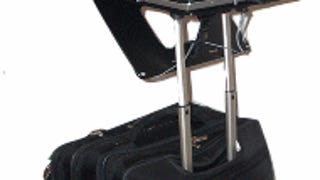 If you travel at least a little bit for work, you'll be interested in this RollerTop tray for your carry-on bag. It's a stand that hooks to the top of the handle on your roller bag, which folds out to give you a "stable" platform to put your laptop on. This way you can be checking email or surfing the net even when…
Bloggers live and die by the keyboard, so you can imagine how many meals we eat in front of our glowing monitors. You may not know this, but your keyboard is probably the dirtiest part of your desk. So instead of placing that turkey sandwich on that clacker, place it on the keyboard food tray.