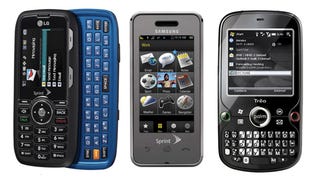 Boy Genius lays bare Sprint's slate of sequel phones for the next few months, and it's actually a pretty decent lineup for the smartphone-averse.
Looks like the release date for Palm's Treo Pro is pushed back from tomorrow all the way to February 15th. But with all the buzz around the Pre, we have to wonder who'll care.
A purported screenshot of a Best Buy sales terminal indicates October 26th as the day that the first Android phone will be showing on shelves at the retailer. This leak follows a similar one from just a few days ago that reveals the BlackBerry Bold will be coming to Best Buy, also on the 26th. Accompanying screenshots…
Today is a good day for Palm fans because the 3G-equipped, touchscreen Treo Pro is hitting the street for $550. Again, rumor has it that it could come to AT&T at a subsidized price in December, but if you want to get the unlocked version, now is the time. [Palm]
Palm announced in their quarterly call that it had found an unnamed carrier to sell their new Treo Pro, but declined to mention who, specifically, would peddle the $550 phone (at a potentially subsidized cost). WM Experts seem to think the carrier will be AT&T, which makes enough sense, since AT&T tends to get the big…
The Gadget: The Treo Pro is a 3G-equipped, Windows Mobile 6.1-running, touchscreen smartphone that's just a sliver bigger than the iPhone 3G. Completely redesigned, it's Palm's best looking phone in years.

Palm's Treo Pro was announced today, and we just got one for ourselves. The most noticeable thing about it is how small and light and shiny it is for a Palm phone. As a comparison, it sits between the BlackBerry Curve and the iPhone in terms of size. Could this be the king of the WinMo phones?


Palm is in a tough place right now, with a staid reputation, a decade-old OS and a line of phones that are all, well, sort of boring. The New York Times ran a piece today charting Palm's revitalization plans, which are being carried out under the guidance of CEO Ed Colligan and Apple vet Jon Rubinstein, and they…
Slashgear's just found a video of the upcoming Treo Pro, a device that physically looks like the Centro, but runs the touchscreen version of Windows Mobile. The video shows you pretty much what you need to know about how big the phone is in your hand (not too big) but if you want to see it compared to some other…
Yesterday's leaked Treo Pro was definitely not a rendering. We've now got a whole gallery of it in the flesh, confirming its good looks, and maybe more importantly, its size. While a little taller and wider than the Centro, it's mercifully thinner than its pocket-bulging predecessor. The keyboard spacing looks like…
Wow, check out the Treo Pro, previously thought to be the Treo 850. It's safe to say Palm is plunging ahead with the Centro's industrial design, but the stark (glossy?) black and white color scheme with the phone/end orbs make it slick, rather than kiddie cool. Unfortunately, the Palm OS (new or othewise) is nowhere…