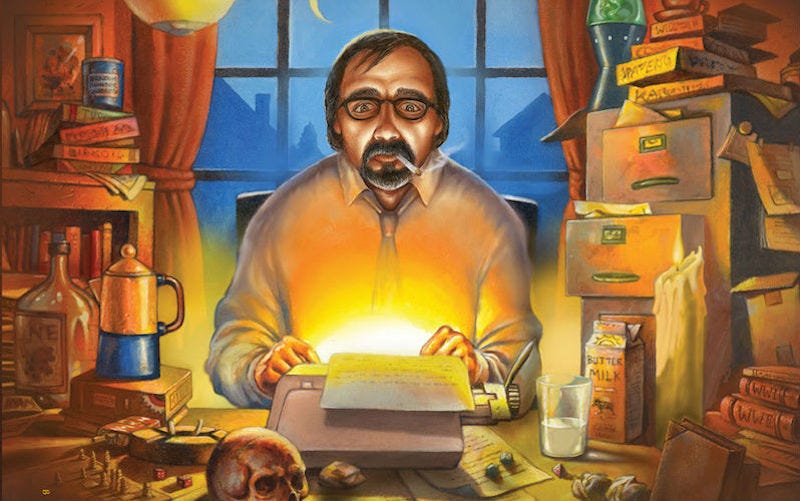 He wasn't a fighter, a thief, or even a wizard, but Gary Gygax was still a hero of nerd culture. As the creator of Dungeons & Dragons and the father of virtually all role-playing games, he had a defining influence on fantasy and entertainment, and his life has been chronicled in a new biography titled Empire of…
Speaking of The Greatest Out-of-Print Tabletop RPGs That We Still Love! Wizards of the Coast is re-releasing the legendary "White Box" in a deluxe edition — the very first Dungeons & Dragons set ever, back in 1974 — including the three original rulebooks, along with four classic supplements all in special packaging.
Brom is only 48, which is pretty young to have his career summed up in a single book. But the recently released The Art of Brom does just that, from his humble beginnings (seriously, you have to see the dinosaur picture he drew when he was 5) to his reign as one of the fantasy world's biggest artists to his more…
Gygax Magazine launched earlier this year — named for one of the creators of Dungeons & Dragons, and featuring the involvement of Gary Gygax's sons. Now TSR's given us a sneak preview of their second issue, due next week, featuring a cover by Jeff Easley.
Gary Gygax, co-inventor of Dungeons and Dragons, will probably be best remembered as the man who brought role playing games into the lives of millions of teenagers in the 1970s, and who helped spawn an entire industry. If you've ever rolled an eight-sided dice in a game, it's thanks to him. While his bread and butter…