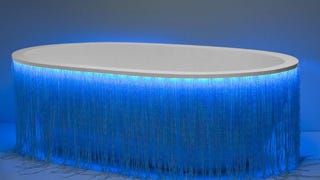 The Aquamass Parure bathtub is clever! Designer Elvis Pompilio used crystalline pearls backlit by LEDs to make it look like the tub is constantly overflowing with water. Like taking a bath in a waterfall. Or in Avatar-world too, I guess. [BornRich]
It seems that low-tech, wood-fired hot tubs are trendy again. According to the NYT, this could be either due to the fact that old-school hot tubs are cheaper or simply because of a certain nostalgia:
I love big bathtubs and crazy jacuzzis, but this thing defies imagination. It's an 8.3-feet diameter bathtub made from a single rock crystal. If Superman had a tub in his Fortress of Solitude, this would be it.