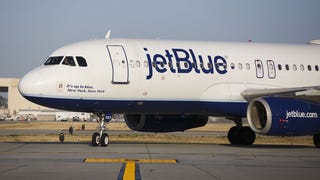 Last night, a JetBlue flight destined for Sacramento, California encountered turbulence so bad it sent 24 people to the hospital.
It's scary. It's uncomfortable. It spills your tomato juice. It's turbulence—but how dangerous is it, actually?
Take two panes of glass and glue them together with liquid and sand in between, and you've got the makings of some eye-popping dynamic sandscape art.
Rough weather caused by clouds and storms is easy for pilots and ground crews to spot and avoid when planning a flight route. But even perfectly clear skies can be full of invisible pockets of CAT—or clear-air turbulence—that are now easier to spot and predict thanks to a European laser-based detection system known as…