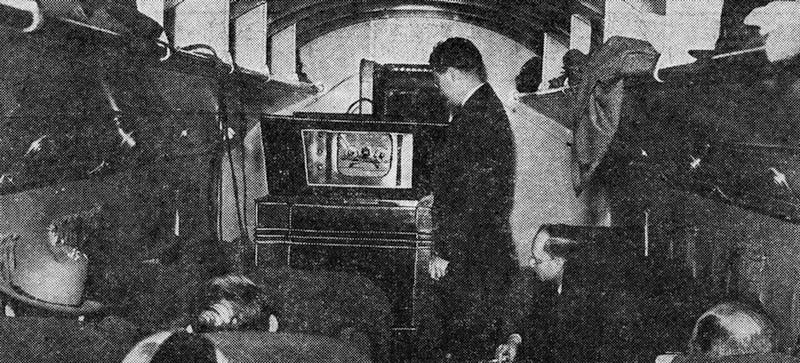 History was made when the first in-flight movie was screened over Chicago in 1921. But it wasn't until 1939 that passengers were treated to the first in-flight TV. What was playing on the boob-tube in the sky? Live footage of their own plane, oddly enough.
The living room of the future was supposed to be interactive. It was supposed to have all the world's media at your fingertips. And above all, it was supposed to have a big ass TV. Today, Americans can buy enormous TVs for relatively cheap. But we're still waiting on this wall-to-wall TV of the future from 1958.
Visitors to the National Radio Show at Earls Court in 1961 got a peek at the future of TV. Far from the enormous boxes that might sit on your living room floor, this TV was sleek and stylish — a preview of the TV modernist ideal that was slow to actually arrive.
Futurist-minded weirdos were dreaming up 3D movies as early as the 1910s, back when feature-length films were still in their infancy. But in 1928 the hot new techno-hype was all about television: specifically, 3D TV that people could watch in a theater. Complete with that newfangled sync-sound!
In 1939, the first Major League Baseball game was broadcast on TV—a double-header between the Cincinnati Reds and the Brooklyn Dodgers—at a time when American TV was still very much an experiment. But this broadcast was a long time coming. In fact, years before practical TV tech had even been demonstrated, people were…
Only about half a dozen people in the Los Angeles area owned a TV in 1933. But those handful of early adopting TV geeks were in for a special treat on March 10th of that year when the movie The Crooked Circle was broadcast in its entirety.
Today advertisers use futuristic tech like jetpacks and robots in their TV ads so that potential consumers think of their brand as forward thinking and innovative. In the 1920s, the cutting edge gadget that advertisers most wanted to associate themselves with was television. But, since the technology was still in its…
The March 1931 issue of The Country Gentleman magazine included this advertisement for Timken bearings. With the bold headline "100 YEARS AHEAD" the ad promises that the farmer of the future may be unrecognizable — thanks to Timken bearings, of course. Our farmer of tomorrow wears a suit to work and sits at a desk…
Congrats to Thomas Kash on winning the 37-inch Aquos TV from Sharp. The Super Bowl party is at his house this year. For everyone that didn't win, you still have an opportunity to take away a bit pride in knowing that you got the right answers to the contest entry questions. Those answers are available after the break.