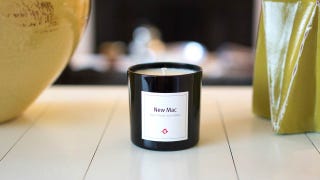 If you're looking for an easy way to raise your iMac screen closer to eye level, HiRise will do that. If you want a quick way to eliminate any trace that you use an external hard drive, or leave your keys and wallet on your desk HiRise will also do that. And because it's machined from aluminum, it will do so in…
The BookBook for the MacBook Air—like the MacBook version before it—is a beautiful leather-bound, hand-distressed hardcover case for your laptop. You'll feel like you're carrying a book again.
TwelveSouth's BookBook case, which we've admired before for it's nice leather exterior and adjustable stand mechanism, has been updated to play nice with the iPad 2. It's still $70. [TwelveSouth]
For you iPad owners who want to be extra cheeky about the fact that you're helping books go the way of the dodo, TwelveSouth's BookBook case wraps your tablet in hardback leather. Think War and Peace: Plants vs. Zombies edition.