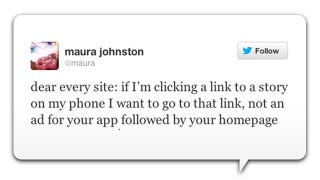 Hey websites, here's a newsflash: Navigating the web on your phone isn't as easy as on your computer. Don't remind me by suggesting that I download your stupid app when I click on a link to your list of GIFs. As if I'm going to drop everything right then and download your app. And then, when I decline, you send me to…
We've been vocal before about how the coffee shop is not your office. But if you do happen to set up camp in one, you may absolutely never ever under any circumstances complain about the freaking music.
The same reason I don't want you to see my 25 most played songs on iTunes is the same reason I don't push Spotify updates to Facebook. You would find that I've listened to Britney Spears' "Til the World Ends" a total of 72 times. It's a great dance track, ok?