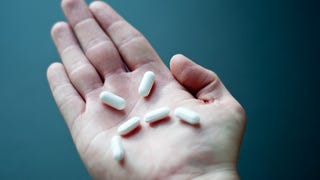 A 3.5-year, double-dummy, randomized, placebo-controlled trial, conducted across 235 primary care centers in Sydney Australia has found that paracetamol (trade name: Tylenol, aka acetaminophen), one of the most widely used analgesics in the world, is no more effective in the treatment of back pain than placebo.
New research suggests that acetaminophen—the generic name for Tylenol—could help people overcome anxiety about existential fears of death.
These jolly, elfin skeletons come from a 1900 calendar put out by the Antikamnia Chemical Company, makers of the early pain reliever Antifebrin. The skeletons may seem a little disturbing, but there's nothing to worry about... except for the tiny detail that Antifebrin stops the flow of oxygen to the blood.