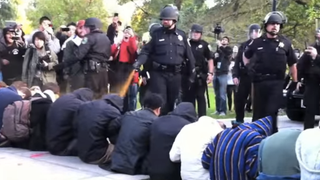 Remember the November 2011 pepper-spray incident at UC Davis? After video footage of a campus police officer casually blanketing Occupy Wall Street student protestors with pepper-spray went viral, the episode prompted mass outrage, sparked conversations about the militarization of police, and launched a thousand memes.
When the Loma Prieta earthquake struck San Francisco in 1989, it gutted the Marina neighborhood. While part of that was due to liquefaction effects caused by the area's underlying landfill construction, the problem was exasperated by the area's multiunit homes, which typically either had parking or shops built into…
Crack open a bottle of suds and prepare to be amazed as Professor Charlie Bamforth leads a tour of the UC Davis Brewery, revealing the astonishingly complex chemical process—and artisanal origins—behind making beer. [PopSci]
Getting old isn't all it's cracked up to be. Sure, you get a hefty discount at the Country Kitchen Buffet. But you also suffer from stuff like age-related macular degeneration (AMD), a retinal disease that afflicts more than 10 million people a year in the US alone. There's hope for the eyes of America's elderly,…
UC Davis neurosurgeons J. Paul Muizelaar and Rudolph J. Schrot have been barred from performing human medical research, after being accused of experimenting on terminally ill brain cancer patients without University permission. But the researchers continue to insist that the accusations are misleading.
Researchers at UC Davis have designed contact lenses that can give you an in-eye checkup to make sure there's nothing wrong, as well as dispense medication automatically when needed. The "smart" lenses use an organic polymer called PDMS (polydimethylsiloxane, if you're nasty) that detects eye pressure and sends that…
The World Health Organization estimates that glaucoma is the second leading cause of blindness worldwide. And though the first leading cause of blindness - cataracts - can be treated with surgery, the blindness caused by glaucoma can't be permanently cured. That's why Tingrui Pan and Hailin Cong, researchers at UC…