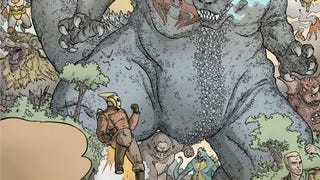 Well, here's the most unexpected bad-ass fan art you'll see all day. Artist Ulises Farinas — who you may remember from these previous illustrations — has now pitted the Rocketeer and G.I. Joe versus Cobra and Godzilla's kaiju army.
Ulises Farinas has wowed us before with his illustrations of superheroes as Lego minifigs. Now he does the same with the cast of Doctor Who. Perhaps this could provide some inspiration for a Doctor Who Lego line? [via Forbidden Planet]
When Lego Galactus comes to consume our plastic planet, who will heed the call to defeat him? How does the minifig Green Lantern Corps wear rings without separate fingers? Ulises Farinas illustrates superhero scenes in the Lego world.