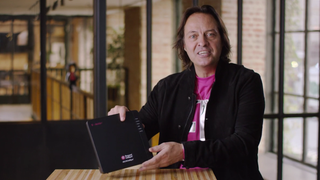 T-Mobile is still a few days away from its big Uncarrier X announcement, but that didn't keep CEO John Legere from dropping a bit of news on Twitter Monday morning. T-Mobile is upgrading its wifi CellSpots to 4G LTE and still free for customers with a Simple Choice mobile plan.
T-Mobile's 'unlimited means unlimited' policy is good for consumers, but it's also a boon for less scrupulous users who use cell data to replace broadband, with the help of a few dubious workarounds. Starting today, the endless data gravy train is going to stop.
CEO John Legere has long asserted that T-Mobile's been No. 3 carrier in the U.S. for some time, but now he has the officials stats to back it up. According to new Sprint quarterly numbers, T-Mobile is now the No. 3 wireless service based on subscribers., gaining two million additions last quarter compared to Sprint's…
T-Mobile and its "Uncarrier" strategy are great. Selling people reasonable phone plans without locking them into ridiculous contracts is fantastic and consumer friendly. Unfortunately, good ideas don't always make good business sense. The head of T-Mobile's parent company said as much in a recent interview; T-Mobile…
This morning, T-Mo CEO John Legere talked specifics of "Data Stash," the company's new initiative to let you rollover your unused data month to month, rounded up to the nearest megabyte.
T-Mo's CEO John Legere, attired in his traditional pink and black garb, took the stage in a San Francisco mobile store and immediately started down his long list of carrier bashing before announcing his company's seventh addition to its ongoing Uncarrier. Now, every phone T-Mobile sells will come with Wi-Fi calling…
T-Mobile's Uncarrier, no-contract pricing is live. You can start at $50/month for talk/text and 500MB of data, or add $20 for unlimited. Now all it needs is some LTE—which is coming soon—and you've got yourself a wicked good deal. [T-Mobile]