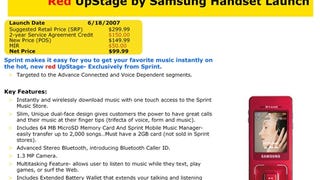 To go along with the Sprint Mogul, our tipster's also telling us that the Samsung Upstage—Sprint's dual-sided music phone—is coming out in a fiery red color on June 18.
Right at this moment, a bunch of music fans are sitting in rows at the San Francisco Museum of Modern Art's Wattis Theater, eagerly awaiting the fate of Pandora, the cult-hit semi-customizable Internet radio service. What are they about to hear? That Pandora is teaming up with Sprint and Sonos to get into mobile and…
Despite getting quite a decent reception at CTIA07, garnering even a Frankenreview by us, the Sprint Samsung Upstage apparently isn't selling all that well. That's our guess as to why they've lowered the price down to $100 from $150 not even a month after its release.
Jealous of the booze, babes, and cellphones that our own Brian Lam and Jason Chen get to play with all week, I decided to do some follow-up research on the new Samsung SPH-M620 (or Sprint UpStage) that has them all in a tizzy, celebrating with wet Mouseketeer kisses.
We just got done talking to Sprint about their latest (and some would say best) music phone, the Samsung Upstage. Here are some previously unreleased details that may have not been found here (or anywhere else).


Tonight's CTIA Pepcom event was not exactly quiet, with press, analysts, executives, and other assorted assholes running around trying to grope all the new phones. After things settled down a bit, I got more face time with the Samsung Upstage (which I keep calling the Upstart), formerly known as the music phone…
Sprint's dual-screen Ultra Music phone is launching at CTIA this week, but in addition to a new coat of paint, it will also be carrying a new, unfortunately lame moniker: "UpStage." Overwrought branding aside, I dug it quite a bit back at CES, and think it's one of the better music phones on the market, so it's…
Also, his stage presence has improved dramatically, no small thanks to a little intro with Mossberg's image, name, jingle, and improved lighting. This is a brave new world, and Mossberg is diving in: Godfather says, all your base are below to us, gadget video bloggers. I won't lie, it's not entertaining like Pogue's…