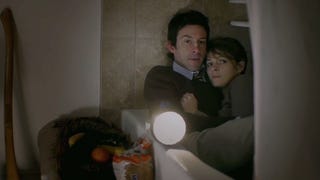 Shane Carruth created an uncompromising mind-bender with his first movie, Primer. But with his second film, Upstream Color, he's done something harder and weirder. Upstream Color uses striking images and sounds to unmoor you from reality, even as it tells a powerful, emotional journey. No spoilers below...
Shane Carruth blew your mind with Primer. And now he aims to do the same to your subconscious, with the dreamlike Upstream Color, which opens Friday in New York. We were lucky enough to speak to him on the phone about the themes and ideas behind his intense, challenging film, and here's what he told us. Spoilers…
Matt Smith and David Tennant are photographed together at the readthrough for Doctor Who's 50th anniversary special. Find out what to expect in G.I. Joe 3! Primer's Shane Carruth reveals the impressively practical special effects in his latest mindbending film. Robert Kirkman looks ahead to The Walking Dead's next…
Twisty story telling director Shane Carruth, director of Primer, has released the score to his latest film Upstream Color to tantalize your ears with promises of nothingness and everythingness. We don't know — it's all so abstract and crazy. Classic Carruth. According to Slashfilm, Carruth's latest work hinges…
Nine years ago, writer-director Shane Carruth left Sundance in awe with Primer, a time travel film that was simple in production but insanely complex in its plot. Primer took a basic set-up, a time machine, and managed to turn a low-budget film into one of the smartest, and also scientific jargon-filled movies in…
We love Primer's Shane Carruth. And we know that the long marketing indie road ahead for the movie Upstream Color will reveal absolutely bupkis about Carruth's new plot. But this new trailer, featuring pigs and kissing and flowers, has us scratching our heads. So we give it to you: What do you think this means?
We are so excited for Primer director Shane Carruth's brand new Sundance movie Upstream Color. And this brand new trailer is only fanning our flame of curiosity. What is going on in this trailer? Why does Shane Carruth and his fellow actress look all banged up? What did that table do to Shane? Why the obsession with…
Good news everybody! The director of Primer, Shane Carruth, is making another movie, and it sounds strangely scifi. Let the freakout dancing commence! The movie is titled Upstream Color and will be premiering at the next Sundance festival in 2013. Check out the collection of odd images (starring the director himself)…