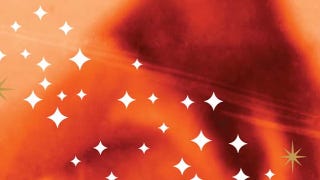 Legendary author Ursula Le Guin published a roundup of new or recent fantasy books she's read over at Bookview Cafe, and her thoughts on Jo Walton's Nebula-winning novel Among Others are especially worth reading. In particular, she talks about what she likes about the way Walton depicts magic:
The BBC's Owen Bennett Jones recently interviewed Ursula Le Guin, one of the most important science fiction authors of the past half-century. The author of Left Hand of Darkness, The Dispossessed, and the Earthsea Chronicles, Le Guin has continued to write gorgeous, compelling tales of alien life well into her…
Streaming on Netflix is a scifi romance with very deep philosophical roots. TiMER is about what would happen if a piece of technology could tell you when you would meet your soulmate.
Who opted out of the Google Books settlement thus far? Approximately 6,500 authors and other literary entities including such writers as Michael Chabon, Thomas Pynchon, Kurt Busiek, and, of course, Ursula Le Guin.
Now that Google has declared war on China, can it take on a diminutive 80-year-old science-fiction and fantasy author? Probably, but Ursula K. Le Guin is not going down without a fight.
Their books take you to strange cities from other planets, alternate histories and mythical realms. But what real-life cities inspire Ursula K. Le Guin, Michael Moorcock, Nalo Hopkinson and China Miéville? The SharedWorlds project found out, with fascinating results.
Call it a sign of the times: A Public Radio discussion about the future of science fiction turned into a conversation about the ways SF is struggling. On the one hand, it's lost ground to fantasy, which has become the more popular book genre by far. On the other, the best science fiction writers still don't get the…
A new queer zine mixes science fiction legend Ursula K. LeGuin and bondage-porn czar Michael Manning into a heady concoction. The Gay Utopia, an "online symposium," includes a poem by LeGuin and an article (with NSFW pics) on Manning's art. It also includes a hilarious Q&A with a giant squid, an insect-sex-zombie…
What would weather be like if you lived in a planet-sized bag of oxygen? What would reproduction be like if there were a third sex who combined the genetic material of two other sexes by linking them at the neurological level and giving them braingasms? What would scientific progress be like in an anarchist-feminist…