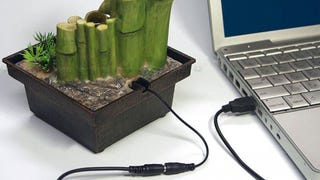 This $25 mini USB-powered zen garden circulates water around its plastic bamboo shoots, creating relaxing sounds for a peaceful atmosphere in the workplace. That, or it'll make you want to pee. [Akihabara via CrunchGear]
Onwards and upwards with Brando—is there any other way? Now in it's 162nd iteration, their handy SATA hard disk dock has speakers. Excelsior!
Sure Whac-a-Butt may be a great conversation piece at your frat house, but some of us prefer the classic version. Luckily, that's out now too. USB Whac-a-Mole is $17, but only in Korea. [Hallyutech]
This USB Card Shaver is the thinnest of its ilk that we've seen and, with a diameter of only 10mm, is perfect for the man-on-the-go trying to hide that he uses an USB shaver in the first place.
Instead of making a chicken dance around by typing in commands, this Frank's Cubicle website has you making Frank play with all his USB gear by clicking on links. It's interesting for a few minutes, especially when you see what he's been looking at with his Spyplane. Makes us wish we had a bunch of USB gadgets to play…