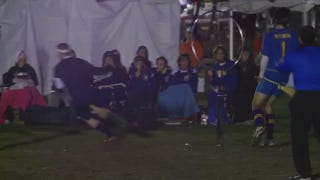 The rivalry between the University of California, Los Angeles and the University of Southern California is a deep one, and any one of those schools cheering for the other is an incredibly rare sight. And yet, that's exactly what happens in this exclusive clip from the Quidditch documentary Mudbloods.
The number one technological hurdle separating humanity from the Jetson Future we deserve is developing a reliable power supply. Even today, we're barely even able to keep out phones alive through the evening commute. But a radical departure in Lithium ion battery technology could help keep our power-hungry gadgets…
Thanks to the success of food trucks like Kogi BBQ's, LA is considered responsible for the street food craze sweeping the U.S. This is why a USC architecture professor asked her students to design a food truck for the future.
The last we checked in with LittleDog, the smaller, scrappier version of BigDog and frequent resident of my worst nightmares, we took some solace in the fact that he wasn't quite as nimble as his predecessor. Now: terrifyingly nimble!
Check out this lengthy vid: it shows how one day you may just call-in giant robots to print out a new home based on a CAD model. Research into the concrete-jet printer is being carried out by USC, and their technology can already build up complex concrete structures using technology that's half-CNC machine and half…
This robot, named the SuperBot, can do some pretty super, and unique things. The SuperBot has the ability to build itself, in a way. It can be constructed into a variety of different figures to accomplish different tasks, for example as a walking unit, rolling unit, snake unit, etc. Each individual block is a robot…
IMPORTANT PUBLIC SERVICE ANNOUNCEMENT: Due to a recent influx in the wolf population, little piggies in our community have been under strict curfew to avoid bloody dismemberment after dark. But now, wolves have adapted to "blow down" houses in the areas north and southeast of the Denny's Unlimited Bacon Breakfast…