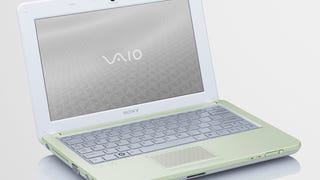 Sony's new Vaio W series "eco-edition" is so green—(how green is it?)—that it doesn't even have a printed manual. Its materials are all recycled, and would make a great accompaniment for a Prius. Update: Hands-on!
If you read the original announcement, there's not a hint of surprise in Computer Shopper's review of Sony's stab at a conventional netbook, the Vaio W. Underpowered and uninspiring, though that 1366x768 screen sure is dandy. Come on, Sony. [ComputerShopper]
I love the idea of a Vaio netbook, but the only thing that actually gets me going about the first of inevitably many Sony Vaio W netbooks is the 1366x768 10.1-inch screen (which ain't even unique). It's pretty, though.
Well, you wouldn't take a real notebook into a kitchen would you? This Vaio W must obviously be a netbook. [Sony via Engadget Japan]