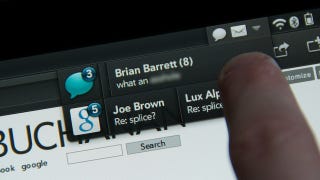 All Things D snagged an interview with webOS honcho Stephen DeWitt, who is not surprisingly downright bullish on webOS's future! But after TouchPad and the phones go, what exactly is left?
The awesome little phone that could, webOS, is dead. Discontinuing all phones and tablets, HP intends to "explore options to optimize the value of webOS software." If that's not murder, then it's certainly lobotimizing, de-limbing and leaving webOS in the middle of an ocean. Tragic.
HP just announced that it's killing off its line of webOS devices. Updated
Former Palm CEO Jon Rubinstein, the guy who resurrected Palm, is leaving HP's Palm unit (no longer called Palm, to boot). Taking over is Stephen DeWitt, HP's U.S. computer overlord. This isn't good for webOS. In fact, It's terrible.
HP's tiny phone for tiny hands is hitting AT&T on May 2nd, according to an invitation sent out by HP for a California launch. Keep those tiny fingers and tiny eyes on the look-out for the 2.6-inch tinyphone, wontcha? [Cvent via PreCentral via BGR]
The HP Veer is what I imagine would happen if you gave children the right to vote on what to size things. It is tiny. The keyboard looks like the keyboard on a toy smartphone—one that you might attach to your regular smartphone as a cellphone charm. Surprisingly, I could still type relatively well on it, but I don't…
The HP veer has the same body-shape as the Palm Pre and Pre 2, but is smaller—the size of a credit card. It's got a 2.6-inch screen, Flash, 5-megapixel camera and a slide-out keyboard. It's HSPA+, which means it's AT&T or T-Mobile.
Three new product names—Myte, Gyst and Veer—have popped up in the FCC trademark database for HP/Palm, which could very well correlate to their upcoming announcements early next year. I assume this means new smartphones and tablets are on the way that aren't Pre/Pixi derivatives, because after the lackluster year Palm…