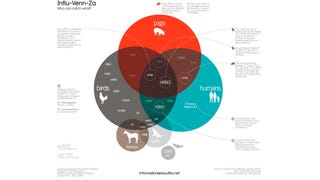 The internet is often awash with news of new types of flu—spread from pigs, birds and all kinds of other creatures—but it's not easy to tell which ones you should really be worried about. Fortunately, this visualization explains exactly which strains you can pick up, and just how dangerous they are.
What are you going to wear to the disco in the hollowed-out asteroid at the top of the space elevator? It's going to be awesome because on Saturday nights they play weird old music from the 1970s. When you get to Club Counterweight, surely you'll want be wearing this helpful chart on your t-shirt - or possibly one of…
With the imminent release Rock Band 3, keytars have been on my mind a lot lately. Then again, when are they not? Anyway, here's the world's all-time greatest keytar-platypus Venn diagram to get you through the weekend.
Last week, a Venn diagram made us face the harsh truths of early adoption. This week, we face unfortunate realities of Macs, Windows and Linux. You may disagree, but you'd be wrong. Multi-chromatic overlapping circles never lie. [GraphJam Thanks Eric!]