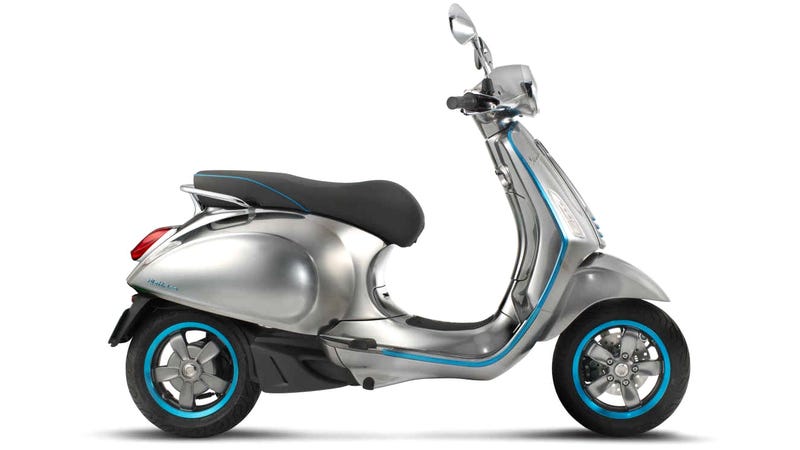 I don't know if the new Akrapovič Full Moon concept bike is the unholy baby of a Vespa, a Harley Davidson, and a Tron bike. And I don't know if I like it or I hate it yet. All I know is that it got my attention. Looks like a space bike form behind:
If the only thing stopping you from riding around town on a Segway is, well, looking like someone riding around town on a Segway, this enhanced version might make you a little less hesitant about being seen in public on one. And it's all thanks to a handful of Vespa scooters that had to sacrifice their lives for this…
I've been considering buying one of those aerovertebraedynamic Herman-Miller chairs. But then I saw this: The Vespa Chair. Awesome retro design recycled with leather to fit my sweet bubblebuttocks or scientifically-researched ergonomics that can avoid fatal back problems and RSIs?
You know that plug-in hybrid revolution everyone keeps talking about? Well, apparently this is what it is going to look like. If Piaggio keeps its word, the first mass-produced plug-in hybrid vehicle will be an updated version of its MP3 scooter, identical to its older brother in nearly every way except for its…
This is a nice, cutesy installation of the Magellan RaodMate 760 onto a 2006 150cc Vespa. Leave it to a scooter owner to even color coordinate the GPS unit with their scooter. It looks nice and clean but a couple questions still remain. How does the screen look under the direct sunlight and are you really doing…
Vespa has developed two scooters that feature hybrid engines to give you even better gas mileage. The LX 50 has a 50cc gas motor and a 1000W electric motor. The Piaggio X8 125 has a 125cc gas motor and a 2500W electric motor. The addition of the electric motor will give a 25-percent boost to fuel efficiency. There…