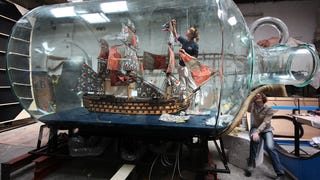 Some people will call this 1/30th replica of Admiral Nelson's flagship Victory—to be displayed in Trafalgar Square, London—"art." I'll call it cheating. Pretty cool cheating, but cheating nonetheless. Now I need a glass of Nelson's Brandy. [Guardian]
Nerds have triumphed over the entertainment-industrial complex. Better Off Ted is officially coming back for the summer. Which means more Phil and Lem, which means a big fat hilarious win for everyone.
It looks like President Obama has outlasted the Secret Service and will be allowed to keep his beloved BlackBerry 8830 for "personal use" provided that he use the Sectera Edge for official business.