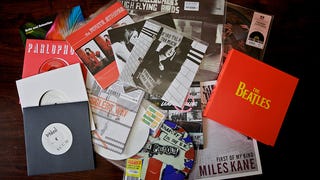 A fascinating story in the Wall Street Journal this morning takes a look at the unexpected resurgence of the vinyl record industry—with sales up 49 percent this year—and the sorry state of the few remaining factories that are struggling to press all those records.
Dead media like cassette tapes, video tapes, CDs, DVDs and so forth should die. I have no problem admitting that. They take up space, offer a worse experience and are just unnecessarily inconvenient now. Who cares that I have a CD tower filled with music? Where would I ever listen to all that? But none of that applies…
It's been three years since we last heard from Swedish indie rockers Shout Out Louds, but their latest single, "Blue Ice," is certainly bound to draw some renewed attention. In collaboration with ad agency TBWA Stockholm, they have produced 10 limited edition kits that can produce a functional album out of frozen…
What do Marlon Brando, Sophia Loren, and Audrey Hepburn have in common, besides being beautiful and mostly-dead? They apparently loved their vinyl records, as captured in this wonderfully nostalgic gallery. Also, there's a photo of Chewbacca sexy-relaxing (with records!).
I thought I fancied the idea of turning myself into a diamond once I die, but actually, having my cremated ashes turned into a vinyl record of my favorite album is much more my style.
Just because vinyl records are analog, it doesn't mean you can't pirate them. All you need is a wood box, glass, window cement, silicone mixture, liquid plastic and a drill press. Hey, I didn't say it was going to be easy.
Remember Gallery 1988's gee-whiz Crazy 4 Cult show we mentioned yesterday? Here's a doozy from this year's show — the retro vinyl LP "Serenity" by River Tam and the Fireflies. Note: it's a Serenity-centric album, so there's no Jayne's Song.
The machines that make vinyl records today are the same hulking, steaming shapers of goop that were doing it 40 years ago. Very cool. [MAKE]