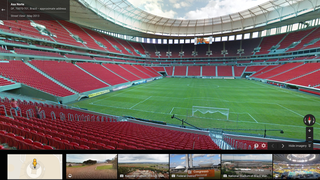 The World Cup is the biggest sporting event in the known universe. The only thing is Brazil is a long trek for most of us, and, y'know things around the world cup tend to get a bit... rowdy? Well, Google Maps is bringing Street View to all twelve of the stadiums, so you can explore them from the convenience/safety of…
Fresh outta Cambodia, Angkor Wat is the latest addition to Google Maps' already considerable portfolio of beautiful places you can explore using Street View. It's one of the most stunning places on the entire planet, and Google stepped up its game accordingly.
The people at NASA Goddard Space Flight Center have built a really nice tour of their facilities and all the stuff they do there. Being a space nerd, I find their videos and information fascinating.