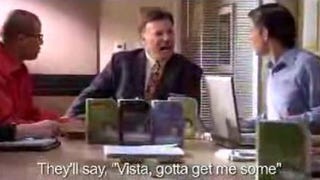 Microsoft's not only delaying Windows XP SP3 temporarily, but they're also pulling off Windows Vista SP1—which has already been pushed out to automatic software update—because of potential incompatibilities. Most of us don't need to worry about it since this is just an issue with MS's SQL Servers that affect Microsoft…
Click to viewThis video shows Microsoft Windows Vista with Service Pack 1 running 108 applications at only 30% processor usage, according to Reader Daniel Smith, who sent it to us in response to the picture of Mac OS X Leopard running 150 applications this weekend. His specs are nothing to write home about:
As people who've already made (or attempted) the jump to Vista SP1 know, before you get to the actual service pack, you've gotta clear a gauntlet of pre-install updates, which started rolling out in Feb. One of the updates apparently sent some users into an endless spiral of reboots, so Microsoft hit pause on the…
Usually, Microsoft only gives you a gratis year of support if you buy a boxed version of Vista. But because the ride to SP1 has been so peanut butter-smooth (hey, sarcasm) they're offering free support for all users who upgrade to SP1, even if you got Vista on say, your Dell box. "Unlimited installation and…
After nearly a year of waiting, that master Vista fix known as Service Pack 1 has been released to manufacturing, meaning it will make it to you sometime this month, perhaps on that February 15 date that had been bandied about.
The first service pack for Windows Vista is on its way, and PC Magazine has a preview of an early private beta version. The good news is that reviewer Neil Randall found the service pack to be faster overall than the shipping version of Windows Vista, and also noticed more drivers available and improved encryption.…