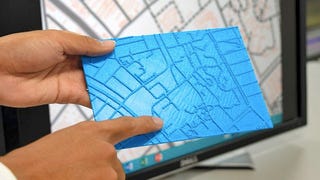 You probably get pretty frustrated when you catch your parents printing out Google Maps directions even though they have a smartphone, but the notion seems less ridiculous when those same maps are coming off of a 3D printer as a way to let the visually impaired safely navigate a city by foot.
Ever since he left his post as the ban-happy mayor of New York City, Michael Bloomberg has been very busy taking his urban revitalization show on the road. Today, his philanthropy announced the winners of his annual Mayors Challenge, with five bright ideas for cities addressing issues from aging to civic engagement.
Moog just trotted out a new version of its popular Sub Phatty synth that's got a braille overlay to help the visually impaired. It's hard to believe it took the legendary manufacturer this long to get around to it, especially given that it's actually a pretty simple modification to the panel's design.
No braille? No problem! This FingerReader by the Fluid Interfaces Group at the MIT Media Lab is a high-tech way to help visually impaired people read; it actually scans printed text and narrates it aloud.
If you've traveled abroad, perhaps you noticed that different denomination bills had different physical sizes, a design intended to allow people—especially the blind and visually impaired—to distinguish how much a bill was worth just by touching it. American currency has not followed this lead! LookTel Money Reader…
We've seen software and applications designed to assist visually impaired individuals in the past, but nothing's been quite what we're shown in this video. The LookTel software actually allows phones to recognize and audibly identify objects almost instantly.
The Navigation aid for the Blind headset is a GPS device, which not only works through speech recognition, but also uses obstacle detection technology that alerts the blind of any sleeping bums or other obstructions he could trip over as he is being guided to his destination. In 2003, we reported on a GPS navigation…
The B&D messenger, designed by Okada Noriaki, bills itself as a way for both blind and deaf people to communicate via text message. Though there are several Braille phone products already in the market, Noriaki device is much smaller in size and pretty inexpensive. On one side of the gadget is twelve points that rise…
Looking like the love child of the mechano-digital Di Grisogono and the F1 watches, this concept is intended to be a timepiece for the visually impaired. Elements of the 7-segment numerals pop out so you can tell the time with a touch (I'm guessing it shows hours, minutes sequentially.) But designer Matthew Wagerfield…
Advances in video game technology usually mean better graphics or new online gaming options, but a team at MIT has taken the Nintendo Wii's innovative three-dimensional controller and used it to create something completely new - a video game that visually impaired and sighted players can play together. AudiOdyssey is…

The Icon Mobile Manager by Levelstar is designed with a different clientele in mind: the visually impaired. Instead of a screen, the Icon features audio menus to help the user navigate, and acts as a hub for daily technology-related activities. This thing is just a great idea, designed specifically to give…