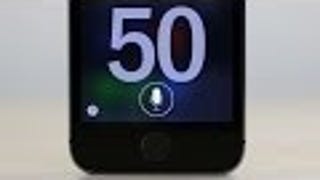 Not sure which virtual assistant/life-partner to entrust with your personal well-being? PhoneBuff newest videos should make that choice at a least a little easier, showing you 50 different commands using both Apple's Siri (above) and Google's Google Now (below).
According to Sony, the PlayStation 4 will feature a voice command system which will allow users to control the console by speaking to it—much like the Xbox One's Kinect-powered system.
Google's got a patent application out there for a Siri-like UI for Google TV. What does that mean for Google TV owners? Not much just yet, but it's a sign you're not totally abandoned.
Go ahead and ask Siri what languages she speaks. Unlike a few weeks ago, her reply will now include Japanese. We mentioned that extra languages were going to be coming to the app soon — looks like Japanese will be the first to arrive. [9to5Mac]
Apple's Voice Control feature is decent, but aside from making calls and playing music, there's not much else you can do. But now, this new jailbreak tweak can equip you with system-wide command over Voice Control, comparable to Android.
The big day has now passed for California drivers and cellphones are effectively banned on the road. At least not without a hands-free device...which Californians will inevitably forget to charge or lose. Other states have this law, but California is the driving-while-talking state. California is regularly ranked the…