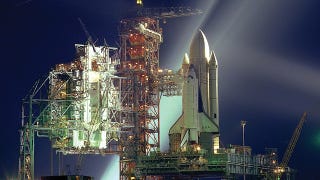 With the launch of STS-135 today, the US Space Shuttle program will end with a whimper. To celebrate the shuttles' service to both our nation and the sciences, the NASA Space Shuttle Manual by David Baker discusses the launch of the very first, Columbia.
I love the idea of a Vaio netbook, but the only thing that actually gets me going about the first of inevitably many Sony Vaio W netbooks is the 1366x768 10.1-inch screen (which ain't even unique). It's pretty, though.
I am going to put the sake of Gizmodo's Apple fanboyism on the line by saying the Creative Zen Vision M is the most aesthetically pleasing MP3 players out there, except for the thickness. This player looks good, but unfortunately it feels like holding a brick. Creative has listened to my cries and thinned out the Zen…
This sale is on the very underrated Creative Zen Vision W portable media player. We originally speculated that this device would have a $400 price tag, but now most places carry it for $300 or so. Best Buy is selling the 30GB model of this player for $250, out the door, which isn't too shabby.

We're intrigued by the Creative Zen W. The displays on Creative's PMPs are usually tops, so we've been hunting for a nice closeup shot of the 4.3-inch widescreen on the any-format-eating player. Here's one for you, courtesy of some blog I closed the window on prematurely. Whoops! And here's a link to what we know…