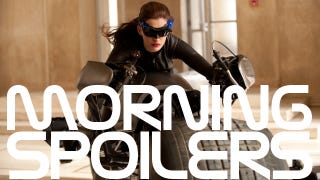 Steven Moffat drops crucial hints about Doctor Who's newest companion. Did director David Slade reveal the identity of his preferred star for the new Daredevil movie? Man of Steel and Transformers 4 find composers. Watch a couple of Abraham Lincoln: Vampire Hunter sneak peeks. Plus new TV spots for Dark Knight Rises…
Is Wanted's super secret assassin Fox being downgraded into a lip-biting self-conscious teen? Rumors are circulating that Stewart will be replacing Jolie as Wanted 2's superslick assassin co-star. Bear in mind that a sequel still hasn't been officially confirmed. [E!]
So Wanted ended with a pretty final resolution for Angelina Jolie's character. But she's supposedly coming back for the sequel. We asked director Timur Bekmambetov how she could return, and his answer was as simple as curving a bullet. Spoilers...
Apparently, "spoilerphobia" is a medical condition. Cure yourself with an early G.I. Joe review, Green Lantern script talk, and Angelina Jolie's rumored return in Wanted 2. Plus Christopher Nolan's Inception, Lost, Time Traveler's Wife, John Carter, BSG, Eureka and Supernatural.
A follow-up to an ultraviolent comic book movie being written by a former Winnie the Pooh writer from an idea by the creator of Fast and Furious? Wanted 2 sounds like must-see car-crash cinemagoing.
Some days a mere spoiler warning isn't enough for our shameless unveiling of forbidden knowledge. Today is one such day, thanks to a Lost set report that sees your "WTF" and raises you one "holy polar bear on a stick." Also, the latest Battlestar Galactica clue is so bizarro, it's like they're nuking Earth all over…
Wanted comic book writer, Mark Millar, has been told to prepare for Wanted 2. He spilled the information on his message board: "Wanted 2 already being planned and they've asked me how I can develop some of the other stuff from the book into the sequel." If they keep making Wanted the creators are eventually going to…