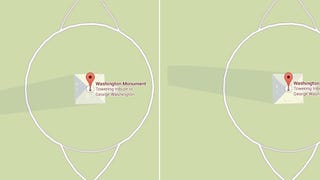 If you've got a lot of time to kill on this work-free Memorial Day, you can spend a good chunk of it over on Google Maps checking out this fun Easter Egg discovered by Michael Sippey. It turns out the shadow cast by the Washington Monument moves throughout the day, accurately reflecting the position of the sun in the…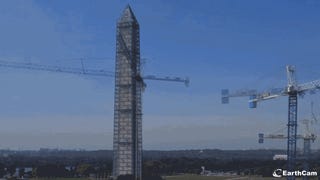 A few months ago, we got a glimpse of the amazing restoration work going on at the Washington Monument, which sustained more than 150 structural cracks during a 2011 earthquake. But a new time lapse from EarthCam illustrates the entire project in 80 seconds—and it's awesome.
The 129-year-old Washington Monument is enshrouded in scaffolding this month, as workers repair the structural cracks caused by a 2011 earthquake. But the scaffolds are giving scientists the chance to carry out other work, too: Like measuring the exact height of the aging monument.
Yesterday, daring structural engineers went up the Washington Monument and rappelled down the monolith to inspect each individual stone for any damage that happened during the earthquake. It looks ball shrinkingly fun.
Last month's earthquake in Virginia rattled the 555-foot-tall Washington Monument such that it's been closed indefinitely so engineers can assess damage. Buildings all across the Eastern Seaboard were rocked on August 23, but the Monument's security camera footage shows that people visiting the famous obelisk had a…
The National Park Service has released a video that shows how the top of the Washington Monument looked from the inside during the August 23 earthquake. Obviously, there was a lot of shaking and people running around.
America's most prized and famous phallic architectural achievement was indeed damaged by yesterday's quake. It's not leaning, but a helicopter inspection revealed something else: broken stones. The obelisk is now shut down indefinitely, Politico reports.