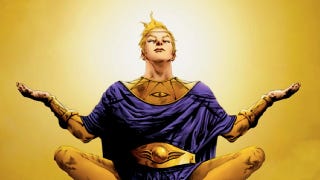 We've heard murmurs of the so-called Watchmen 2 project, and even an image or two mysteriously traipsed into the internet wilds a few weeks back.
You heard that Watchmen prequels were in the pipeline; now take a look at some of the reputed artwork. Bleeding Cool's Rich Johnston has gotten his hands on Joe and Andy Kubert's designs for Nite Owl and JG Jones' Comedian from the Watchmen prequel miniseries, which are being developed under the moniker "Panic Room."
Rumors of a comic book sequel to Alan Moore and Dave Gibbons' Watchmen may be racing around the internet, but that doesn't mean that Warner's movie division is tempted to go back to the well again.
It's not too soon to start talking about a possible sequel to Watchmen, Zack Snyder's movie version of Alan Moore's mega-graphic novel. Okay, sure, the graphic novel has a pretty definitive ending, and Moore never wrote a sequel. But the actors' contracts commit them to a possible sequel. Star Patrick Wilson says…