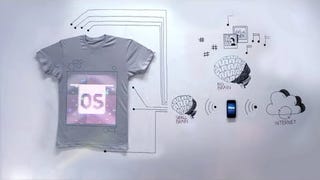 When it comes to interacting with computers in unorthodox ways, Google Glasses are the first thing that come to mind. But it's not the only concept. There's also the computer which is integrated into our clothing. We've fitness and health concepts that can provide bio-feedback, and others which can control your…
Having seen "sewable computing" at the MIT Media Center firsthand, I can say something like Ping clothing will exist someday soon. If wearable, always-on computing gets you hot and bothered, read on, because Ping clothing promises to do that, constantly.
Say what? Apple better not be working out how to strap a laptop to someone's back, because that's already been done—10 years ago. But their recent hiring of someone well-versed in wearable computing does spell something interesting.
The tech world has been buzzing for the past week over an MIT Media Lab student project which converts any surface - including the human body - into a touchpad that controls a mobile computer in your pocket. Using just $350 of off-the-shelf technology, Pranav Mistry created the device for the Fluid Interfaces group…
A seriously odd announcement from camera maker Nikon, the Media Port UP300 and UP300x video headset approaches wearable PC territory. The device, which honestly looks like a pair of headphones with a small display tacked on, actually has a pretty impressive spec sheet: up to 8GB of flash memory for videos, audio and…
Okay smarty-pants, try this on for size: we've been hearing a lot about wearable computers, but now scientists at the Virginia Polytechnic Institute are figuring out how to manufacture pants that detect movement.
Here's what all the fashionable soldiers will be wearing on battlefields soon, the Parvus ZYPAD WL 1000, a wrist-wearable wireless computer that the company rolled out at the Armed Forces Communication Electronics Association's TechNet 2006 International Conference. It uses a combination of WiFi, Bluetooth and GPS for…